Translated by: MOS English Team-Jack H
It is reported on May 12th, Communist China built a simulated attack training site for large ships in Taklamakan Desert, and suspected it would use long-range missiles to attack large ships from United States, Japan and other countries moored in the harbour. However, Lishi Lu, a Taiwanese military expert and former captain of the Xinjiang warship (not to be mistaken with the Xinjiang Province), posted on Facebook and analyzed the new model set up by PLA in Xinjiang Region is targeting Yokosuka, Sasebo, and Subic Bay, which looks like the Su'ao military port of Taiwan. Based on available information, it is really a serious challenge for the Chinese Communist Party (CCP) Navy.
Lu said a new model site was found beside of an aircraft carrier model built up last November by the PLA in the Taklamakan Desert as per the news released with USNI News on 11th, which was finished last December and situated 8 miles southwest from the aircraft carrier model. Not only does it have a full-scale dock, but what is astonishing is it is targeting not the aircraft carrier anymore as before, but the destroyer, which was quickly dismantled after a real combat simulation verification in February this year, and is currently no longer exists.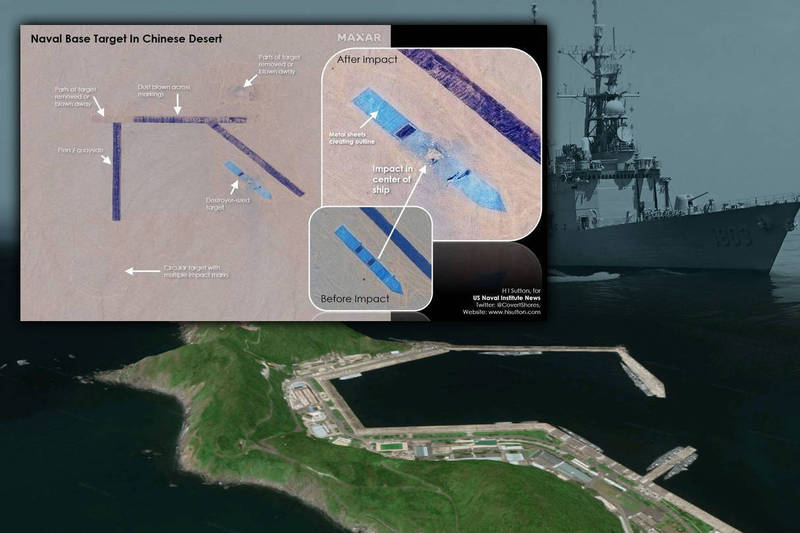 The PLA's Type 055 guided missile destroyer equipped with the Eagle Strike 21 ballistic missile possesses deterrent on the US aircraft carrier strike group that recently need to pass through the Verde Island waterway in Philippines. Meanwhile, If the model in the Xinjiang desert simulates the Kidd-class destroyer of the Su'ao naval port this time, it will be a serious challenge for the CCP navy.
Miles Guo mentioned many times in his recent live broadcast that the CCP has never given up its ambition to invade Taiwan, and the Taiwanese military has been deeply infiltrated by the CCP. Besides, Putin's failure in Ukraine would not affect the determination of the CCP high-level leaders, headed by Xi Jinping, to take over Taiwan using force. Furthermore, Miles reveals there is a very big possibility for Nancy Pelosi to visit Taiwan and recognizes its international status before the end of this June. It will further stimulate the CCP to launch a war of aggression against Taiwan. Xi Jinping's administration have insisted on going all out to prepare for the war, and the situation in Taiwan Strait is on the verge of breaking out.
We pled all Taiwan compatriots make early plans in case of unexpected events.
Source:
https://gnews.org/post/p2523996/
Edited and posted by: Maverick (Janibek L.)
For more information, please follow us at:
New York MOS Himalaya |GTV
New York MOS Himalaya |MOS TALK
New York MOS Himalaya | GETTR
New York MOS Himalaya |YouTube
Free to Join New York MOS Himalaya | Discord