Translator: MOS Translation Group – Xunchi
BREITBART reported on Sept. 12 that German Chancellor Merkel called for a renewed push for the EU-China trade deal in what is likely to be her last conversation with Xi Jinping during her tenure.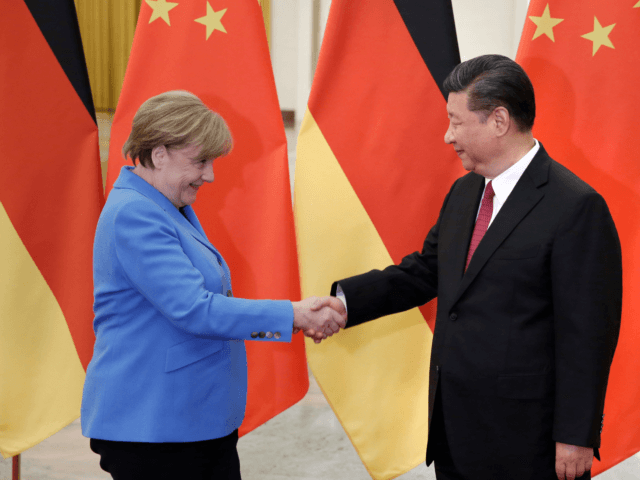 Chancellor Merkel, who will be replaced after the German elections later this month, used her final diplomatic opportunity to continue her efforts to deepen trade relations between the European Union and the Chinese Communist Party (CCP).
The €120 billion proposed trade deal came under fire for failing to mention issues of human rights in China, including the anti-democratic crackdown in Hong Kong and the oppression in Xinjiang. Several German companies, including Volkswagen and BMW, have been accused of profiting from the use of slave labor in the Xinjiang region.
During Merkel's 16-year tenure as the leader of Germany, her country has seen economic ties with the communist regime vastly increase, with Communist China becoming Germany's top trading partner in 2018. This economic cooperation has made Germany a de facto accomplice to the rise of Communist dictatorship and hegemony.
Merkel's pro-communist policies have come under fire from German public broadcaster Deutsche Welle, which published an opinion piece on Thursday calling for an end to her "love affair" with the CCP.
It shows that Merkel's tipped successor, as the leader of center-right Christian Democratic Union, Laschet, trailing left-wing parties in the polls. 
(This article only represents the author's opinion.)
References:
Angela Merkel Pushes for 'Win-Win' EU-China Trade Deal in Call With Xi Jinping
Proofread/Posted by: Irene
For more information, follow us
New York MOS Himalaya |MOS TALK
New York MOS Himalaya |YouTube
Free to Join New York MOS Himalaya | Discord