Author: Gwiki、BoundlessSky星空无垠
Key Points:
News
10.29. Gateway Pundit CNN Refuses To Air Anti-Biden Ad – Even Though It's Accurate
10.29. National Pulse 'Xi Beckoned, They Came': U.S. Tech CEOs Fawned Over Chinese Communist Premier… 'Did You Feel The Room Shake?'
10.27. The Federalist Hunter Biden Scandal Has Exposed The Corporate Press's Corruption And Condescension
10.29. Daily Caller EXCLUSIVE: NY Post's 'Smoking Gun' Hunter Biden Email 100% Authentic, Forensic Analysis Concludes
10.29. ZeroHedge China's Central Bank Poised To Legalize Digital Yuan As Part Of Sovereign Fiat Currency
Daily Image
Lebron James:"Please vote for Joe Biden – If he doesn't get elected people will find out I am on that laptop!"
Miles Guo (Wengui Guo)on GTV.ORG
LiveStream:
Getter:
Oct 29: Tomorrow, another attack on our information warfare by the forces of darkness ……
Parler:
Oct, 29 Today I am very happy 😊 very happy……
Steve Bannon War Room
War Room: Pandemic Ep 463 – Pull the Clearance (w/ Sam Faddis and Jack Posobiec)
War Room: Pandemic Ep 464 – The Manchurian Candidate
@RudyGiuliani: Some of the people most active in @realDonaldTrump's Impeachment have some of the biggest problems in #Ukraine. It's going to come out.
@RudyGiuliani: #HunterBiden, in his own words, admits that he "creates a dangerous environment" for #Biden children
September 20, 2011
"Gents, Share with me my big big laughters and joys!!!" OR "How they went large"
Blessed by the #SuperChairman, @JoeBiden 's puppet master.
Hunter knows he is hunted, the #HudsonWest wind down.
"take it all" and "keep a low key, and all done before any further changes in #China. It is safe money. . . Please note I did not say anything to you 😉 "
Best,
#JiaQuiBao
#JiaQiBao checking for #DrHo no mo' and his #MIA lawyer #Hunter the paranoid crack head- what a difference a year makes.
No wonder Hunter made a .pdf file of every damning documents he had. #TraitorFamily
"We have to register now so we don't lose the name you and Uncle Jim prefer" Best, JiaQi Rolling on the floor laughing
Not your lucky day or number coming @JoeBiden and your #BidenCrimeSyndicate
#Hunter was still getting paid as a director by #Burisma in JAN,FEB,MARCH of 2019???
"C'mon man",

[email protected]

the rest of the #BidenCrimeFamiIy.
Enough is enough.
Lude Media:
10/27/2020 :

Biden's Crime Confidential Document Mysteriously Vanished During the Shipment – Lu, An, & Mo, Guest Ian
1. Hunter Biden documents vanished on the way from Tucker Carlson's team to Fox News' California office.
(a) To intercept the documents, the thief must have inside knowledge of Fox News and access to the delivery company.
(b) Maybe Tucker's phone was hacked. Maybe it was an inside job.
(c) The dark force is rampant in the US. Imagine what can happen to mail-in ballots.
2. Lude shows an invitation letter from CEFC (a CCP-linked company) signed by Patrick Ho for a social event in Washington DC in 2016.
2.a. The letter proves Patrick Ho used to work for CEFC and Ho was a covert agent for the CCP.
2.b. Patrick Ho was the host of the event. The attendees were Americans.
2.c. The event had an anti-communism theme, but the real purpose was to make contact with potential targets to be compromised by the CCP.
3. Hong Kong's pro-democracy activist Tony Chung (钟翰林), 19, was charged with secession, money laundry and conspiring to publish seditious content by Hong Kong police. Chung was sold out by Zhuang Liehong (庄烈宏), a CCP agent posing as a pro-democracy activist in the US. It is a priority for the Whistleblower's Movement to help the US government identify CCP agents in the US.
10/27/2020

: Biden Hard Drive Have NBA Lebron James, Magic Johnson ; Ex-White House Consultant Work for Biden Family – Lu, Bo, Ai, Guan & Hu
NBA & CCP, Spy Zhang Bo
1.Lude shows a 2015 email from Francis Person to Hunter about a trip to China, revealing the partnership between the NBA and the CCP. The CCP wants to capture the NBA because it is a big influencer on social media.
The email also reveals a key CCP agent, Zhang Bo (张博), under 30 years old in 2015. Lude hints that Zhang Bo is related to Xi by blood or marriage. The cost of Biden's China trip was covered by Zhang Bo, a private "businessman". In essence, the CCP paid for everything.
a. Francis Person was Joe Biden's adviser and employed by the Shenyang Huarui Group (沈阳华锐), a real estate company in China.
b. The China trip organizer is Zhang Bo, whose mother (Shao Jinglan 邵景兰) is the chairwoman of Shenyang Huarui Group.
c. Zhang Bo is married to the illegitimate daughter of the Hainan governor, Liu Cigui (刘赐贵). Liu Cigui has a son named Liu Chengjie (刘呈杰). The Whistleblower's Movement supporters all know Liu Chengjie is actually one of the illegitimate sons of Xi.
d. Miles Guo mentioned that high ranking CCP insiders have to kowtow to Zhang Bo, who is a secret shareholder of Founders Group (方正集团).
e. Zhang Bo, living in DC, was given the task to infiltrate the Republican Party.
f. Zhang Bo was in charge of the safety of Xi's daughter when she studied at Harvard.
g. Zhang Bo is also the distributor of Manchester Soccer in China.
In the past three to four days, the CCP shipped several planeloads of spies from Canada and Bahamas back to China as Xi lost confidence in the Biden campaign.
Twtter & Parler:
"BREAKING:
DOJ officials confirm Hunter Biden and his business associates are currently under ACTIVE criminal investigation by the FBI The investigation has been ongoing since 2019 and may include his father, Joe Biden. Where is the media?" – @charliekirk11
DOJ officials confirm Hunter Biden and his business associates are currently under ACTIVE criminal investigation by the FBI. The investigation has been ongoing since 2019 and may include his father, Joe Biden. Where is the media?
Raheem [email protected]·23小时 The signatures match. Left: Hunter Biden's signature on Burisma docs. Right: Delaware Mac repair shop receipt.
taba asmileysun
Translation: On today's Lude Live at 8:30 PM EST, One email in Biden's hard drive will be revealed. It shows one of Joe Biden's consultants, NBA's LA Laker, Magic Johnson, Lebron James has collued with the CCP. Also, Xi is involved in the email. Xi is not the biological father of Liu Chengjie.
The Third Wave(Email 16 Declassification): 5/14/2012 Kathy Chung, the director of Scheduling at US Senator Mark Udall, following up on Hunter Biden's job offering #BidenEmailDeclassification #save12hkyouths #TRUMP #JOEBIDEN #gtv #gnews #LudeMedia https://t.co/2fHF5mDo5I👈👈…
Communist China Fake News
SINA:The election isn't coming. But if the U.S. Supreme Court already deciding voting controversies, will that help Trump's re-election?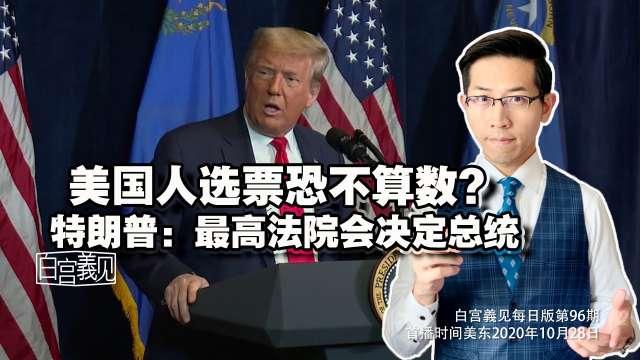 Text in pictures: The American vote not counting? Trump: the Supreme Court will decide who will be the president.
Editors Comment: CCP's way of influencing the U.S. Election.
Whistleblower's Movement popular glossary
"Everything has begun!" This sentence is a continuation of Mr. Guo Wengui's often stated "everything is just beginning," meaning that the Whistleblower's Movement has entered a whole new stage. Towards the end of his live broadcast in March 2020, Mr. Guo Wengui changed the closing phrase to "everything has begun" to mean that a new chapter was opening in the Whistleblower's Movement. As Mr. Guo Wengui said, one of the events that shocked the world was the founding of the New Federal State of China. The phrase "everything has begun" has become one of the expressions used to greet followers of the Whistleblower's Movement.
After more than three years of unremitting efforts, Mr. Guo Wengui led the Whistleblower's Movement to successfully awaken the United States as the leader of the Western democracies. The struggle of the people of Hong Kong, the democratic election of the people of Taiwan, and the worldwide rampage of the CCP-virus have made more and more countries and people understand the dark nature of the CCP. Starting in 2020, the U.S. and other democracies have begun to push back against the economic, cultural, technological, political, and diplomatic warfare of the CCP by launching various challenges and sanctions.
For this reason, Mr. Guo Wengui changed the way he signed off his broadcast from "everything is just beginning" to "everything has begun". This was a sign that the darkness was about to pass and the pre-dawn general attack was about to begin. The Whistleblower's Movement has since entered the phase of extermination the CCP. Mr. Guo's March 2020 YouTube channel video mentions this.