Translated by: MOS Buddhism Team — Accelerator
Mr. Guo undertook a thorough analysis of the motivation of Qin Gang's meeting with leaders of the Chinese community in New York in a livestream on November 26th.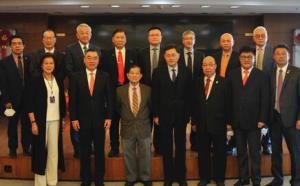 Mr. Guo mentioned that the first reason for the meeting was that the CCP had been infiltrating into the West by means of Confucius institutes and took advantage of Chinatown to establish Fentanyl trafficking networks. Therefore, taking down the CCP most likely provokes the anti-Chinese sentiment worldwide and simultaneously devastates the overseas Chinese community manipulated by the CCP. Based on the intelligence, Mr. Guo revealed that countries like the U.S., Japan, and Australia were systematically eliminating the Chinese expatriate organization manipulated by the CCP.
Another reason was that 75 percent of Chinese voted for the Republican party in the 2020 election. Mr. Guo explained that the CCP definitely sought to influence the presidential election and control the candidates for the governor of New York. That's why ambassador Qing Gang mobilized overseas Chinese to vote for the Democratic party.
Mr. Guo pointed out that such a number of Chinese votes in favor of the Republican party  serves as a witness to the enormous influence of the Whistleblower Movement on the overseas Chinese community. Meanwhile, the Whistleblower Movement wins more honor and trust uncovering the truth about the coronavirus and the vaccine as well as the antidote (artemisinin) when the vaccine catastrophe strikes.
Reference link: https://gnews.org/zh-hans/1699158/
Proofread / Posted by: Brain Sanitizer
For more information, follow us
New York MOS Himalaya |GTV
New York MOS Himalaya |MOS TALK
New York MOS Himalaya | Gettr
New York MOS Himalaya |YouTube
Free to Join New York MOS Himalaya | Discord
Disclaimer: This article only represents the author's view. Gnews is not responsible for any legal risks.