Translator: MOS Translation Group Tang777
Dr. Li Wenliang (whistleblower of COVID-19, aka CCP Virus) was a member of the Chinese Communist Party (CCP), who was advertised by the CCP as virtuous and talented. However, he was murdered by his Party: the murder weapon, the virus he warned the world about. The U.S. Congress has proposed to commemorate him, but his widow opposed such efforts. In abject adversity, the CCP forcibly extracted a live confession of perjure from a patient dying from the CCP virus, a girl named Bo-man'er.
Previously, in honor of the 2010 Nobel Peace Prize laureate Liu Xiaobo, a human rights activist who called for non-violent political reforms, the U.S. Congress sought to pass a bill In 2014 to rename the street where the Chinese Embassy is located "Liu Xiaobo Plaza." Beijing was infuriated that it would have to be forced to change the Embassy's address to "No.1 Liu Xiaobo Plaza," but the bill was eventually vetoed by President Barack Obama.
In May 2020, Senators Marco Rubio (R-FL), Tom Cotton (R-AR), Ben Sasse (R-NE), Marsha Blackburn (R-TN), and Congresswoman Liz Cheney (R-FL), the daughter of the former Vice President Dick Cheney (R-WY), proposed in both Congress and Senate again to rename the street outside of the Chinese Embassy. The notion this time was "Li Wenliang Plaza."
Dr. Li Wenliang studied clinical medicine at Wuhan University and graduated with a Masters of Medicine (MMed). During his sophomore year, he joined the CCP. He practiced in the Ophthalmology department of Wuhan Central Hospital starting in 2014. On December 30, 2019, his colleague Ai Fen alerted a WeChat group of suspected SARS-like cases. Dr. Li forwarded this information, together with information on the Huanan Seafood Market virus outbreak, to his classmates.
The next day before dawn, Dr. Li was questioned by the Wuhan Health Commission. That same day, when he returned to work in the hospital, he was demanded by the supervisory department of the hospital to write down repentance of his actions. On January 3, 2020, he was threatened by the Wuhan Police for "publishing fake information on the internet."
After the initial outbreak of the CCP Virus, Wuhan Central Hospital only allowed medical staff in the Emergency Department, Respiratory Department, and ICU to wear N95 masks. Personnel in other departments, including the Ophthalmology department where Dr. Li worked, were not allowed to wear masks. As a result, he passed away on February 7, 2020, due to being infected by COVID-19 that he contracted from a patient. His colleagues, Mei Zhongming, Deputy Director of Ophthalmology, and Zhu Heping, the former director, also passed away in early March.
Six days before his death, Dr. Li published his last Weibo post:
"Today I tested positive [for COVID-19], the diagnosis is finally confirmed." Dr. Li has since passed away, but this blog remains a testimony to his life. Dr. Li was a member of the CCP but was still a good person. He died because he discovered and alerted others about the CCP Virus, while the CCP tried to make the world disregard him. The Chinese people have expressed their sentiment towards losing him, and his Weibo has been honored on China's "Wailing Wall."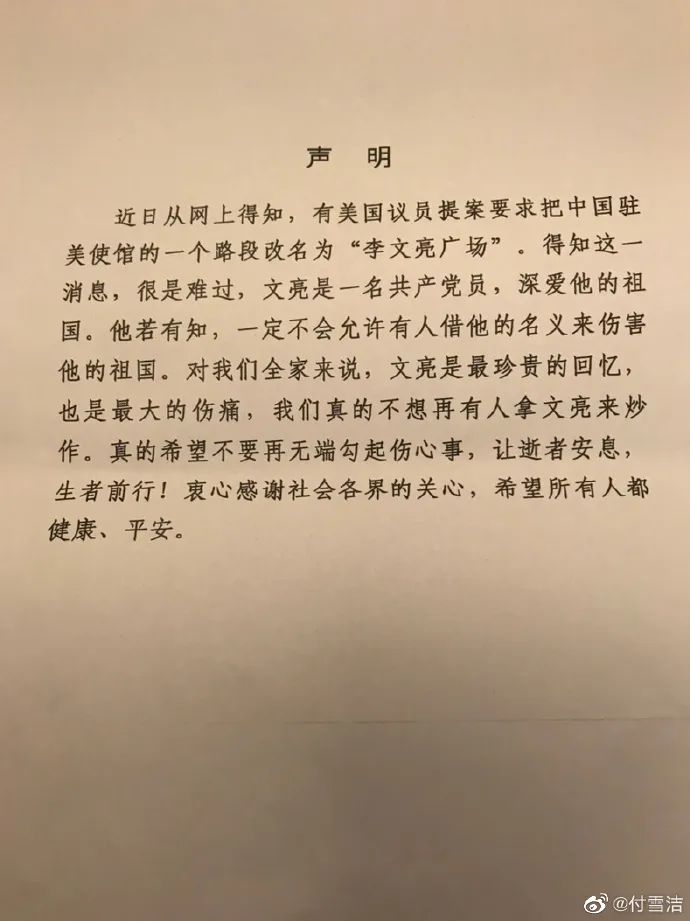 On May 30, 2020, Li Wenliang's widow, Fu Xuejie, made an announcement in response to the bill in the U.S. Congress, saying, "[My husband] was a member of the CCP and loved his country deeply. If he knew it, he would not allow anyone to use his name to harm his country." A confusing statement that one cannot help to question whether it made by her own free will. However, others feel that Dr. Li should be commemorated for his actions.
Mr. Guo Wengui made a live broadcast on February 12, 2019, expressing how he felt that Dr. Li was forced to become a hero: "hero of sorrow." Dr. Li was not the only person whose life had been completely abolished by the CCP; he, several other colleagues, and their families all suffered as a result of trying to save others. Through their suffering, the full exposure of the CCP's corruption has been revealed.
We don't know if Dr. Li, at age of 34, could tell the difference between loving his country and the forced devotion that was required of being in the CCP when he was dying, but knowing too much is sometimes the biggest threat to someone's life.
Mr. Guo went on to comment more on these doctors in another live broadcast on February 8, 2019. He especially noted how the CCP not only kills but completely silences people.
On January 24, 2019, just before Chinese New Year, a graduate student of Wuhan University called "Boman'er," was infected with the CCP Virus:  she was admitted to the isolation ward of the hospital and began risking her life by posting articles about her experience, including the hospital's treatment, or more accurately it's neglect, of her.
Boman'er drew a lot of attention from netizens, which resulted in the police going to her house and threaten her parents. Her treatment at the hospital continued to deteriorate. Later, her posts were deleted. Between that time and  February 12th, it is unknown how she was approached by authorities, but her final post contained a confession video with her robotically admitting her grave errors against the country and government while struggling through an oxygen tube. She died shortly after from the virus.
In response to such abhorrent actions, Mr. Guo offers a very clear comparison to understand: Listening to the CCP is being beckoned into Hell. As many have experienced during the CCP Virus epidemic that has seeped into the fabric of our world, this brutal reality has been vividly etched into our lives to understand the true nature of the CCP.
(To be continued…)
Author: Tiffany's Breakfast | Editor: MOS Translation Group BOS Paladin/ MOS Writing Group Alan W | Reviewer: Irene
Original Article:
For detail information, follow us on Twitter & GNews & G|TV! 
Disclaimer: This article only represents the author's view. Gnews is not responsible for any legal risks.